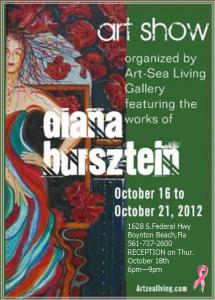 Diana Bursztein, known for her colorful paintings, has been chosen by ArtSea Living Gallery in Boynton Beach, Florida
for a one woman show of the series" The Accidental Healer", coinciding with Breast Cancer Awareness month.

The paintings in this series were done while going through breast cancer twice, and became her coping mechanism.

The art is exciting and uplifting and shows what happens when we let our imagination be our guide.

It will be on display at Art Sea Gallery, 1628 S.Federal Hwy, Boynton Beach,Florida from October 16 to October 21, with an Open House Reception October 18 from 6pm to 9pm.

Meet the artist at the reception and take a journey with her with each painting.